How to use collection QR codes and how to get them
Granting an instructor access to one of your collections automatically generates a QR code, specific to that instructor and that collection.
How to use a QR Code?
To start a training session, students launch the SENAR application either on their own device (distance learning) or on the device you provided them (on site training).
The instructor shares his/her collection QR code with the students.
On the home screen, students tap "Enter as a Guest" and scan the instructor's code.
They complete their name and organization.
In the case of distance learning, the instructor approves or denies each access from SENAR Studio "Approvals" page.
Once approved, the student can download the simulators.
NB: if you wish to know the purpose of step #4, please consult
this article
.
Where to get QR Codes from?
Each instructor can download their QR Codes from SENAR Studio, under "My profile".

You can also provide your instructors with their QR codes yourself. From the "Instructors" section of SENAR Studio, you can:
Have an e-mail including the QR codes sent to the instructor.
or Download your instructor's QR codes, to share them your own way.
Both options are available by clicking the 3-dot button located at the right end of an instructor's row: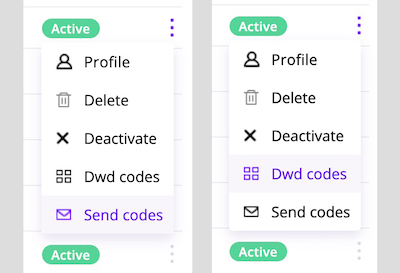 When you create new instructors in bulk and grant them access to your collections at the same time, each of them will automatically receive their QR codes by e-mail.
---
---